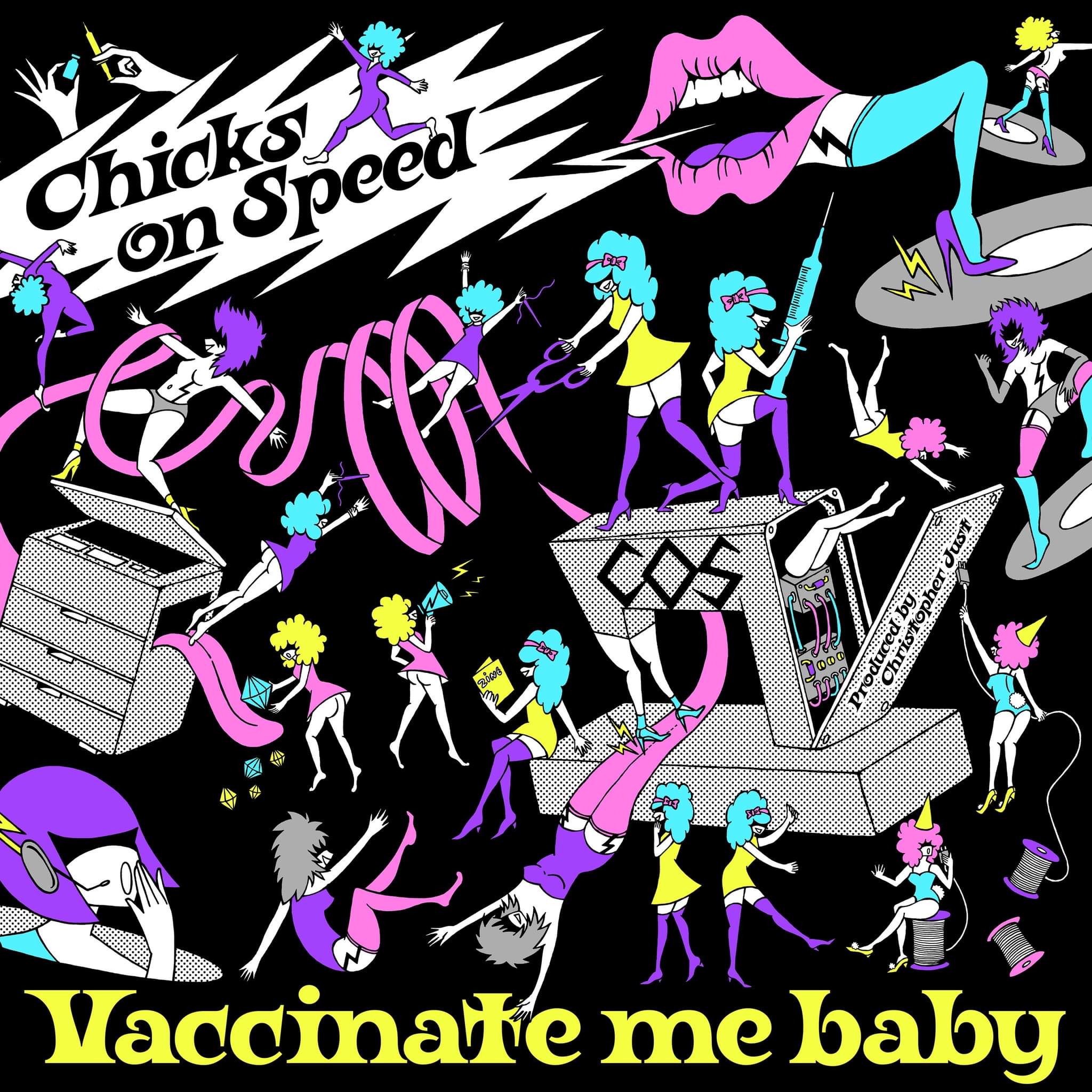 It´s a love song. A double entendre, vaccination and passion, be on guard, your desires fulfilled could mean the spread of the bug.
'Vaccinate me baby' is a lively cover version of King Perry and his Orchestra's original 1952 song, produced by Christopher Just. Collaborating artist performers are: Unnur Andrea aka Apex Anima, Tina Frank, Trudi Veremu aka Thelma Verse and, Luca Solomon Sauerwein.
Artist: Chicks on Speed
Chicks on Speed: Melissa E. Logan & Prof. Dr. Alex Murray-Leslie.
Produced by Christopher Just.
Single Release, Title: Vaccinate me baby
Label: UniCAT | Distribution: State51
Digital release: September 9th, 2021
Listening: https://ffm.to/cos_vaccinatemebaby
EPK >> HERE
The new track by Chicks on Speed "Vaccinate me baby" belongs to Vaxpop, a microgenre of electronic music and a meme, however, the ideas behind it are a statement and a position towards music and art production in times of Covid.
Chicks on Speed are making fun of having fun with needles, the delicate line of tongue-in-cheek and cheekiness keeps you on your toes — dancing, ideally. It reflects our moment like a mirror of skewed glass, it's not a song against vaccination, just like current affairs clips, vlogs,TV shows, COS ride on the bizarre surrealism of mixed information magnifying the strange in a very strange land.
Love and sex can heal all the blues. But hey, it can have a price these days. We think there's an opening up, go to the club, kiss around. Three days later we get knocked to the ground. Even with a vaccination my friend got the bug from intimacy. Hit-and-run in the club. How many jabs does it take to become immune to this bug?
This electro blues song pricks the senses, activating the fun, passion and improvement of life with bodies coming together, inoculating each other before time ends. A quick trip to the grocery store, these many points of contact with everyone in the place. Breathing and touching, we're so connected we don't even have to have sex with everyone to know that they are inside of us, through our lungs, the breath or touch, places where others have touched. It sounds esoteric to say, we are also connected to each other, the world has become esoteric -all of it. Inoculation one, get rid of this bug, – then move onto inoculation 2, "vaccinate me from these blues."
Release Party 09.09.21 at Bar 439
Chicks on Speed and collaborators perform "Vaccinate me Baby" live via a real-time telematic audiovisual improv performance @ Trondheim Academy of Fine Art, TV Studios 8pm-9pm CET, 19th October 2021, as part of the DIKU Norwegian Artistic Research Week: https://www.kit.ntnu.no